Blue Badges provide parking concessions to help people who have disabilities park closer to the places they are going. The official guidance comes in a book with the badge, and a copy can be found online: The Blue Badge Scheme: rights and responsibilities in England (the rules vary a little in Wales, Scotland, and Northern Ireland, most notably in Scotland not having time limits on yellow lines).
A blue badge can be a great help, but it's easy to get using it wrong and end up costing more. The main things to make sure of are:
Who's using the badge?
The badge is to be used so the badge holder can get somewhere – not for someone to run errands for them, or for the blue badge holder to sit in the car while someone else is shopping, visiting the bank, picking up a prescription, etc – even if they are doing these things for the badge holder.
Do you need a clock?
The badge comes with a clock to show the arrival time – it needs to be displayed, showing the correct arrival time, whenever there is a time limit. Time limits apply on yellow lines (except in Scotland) and where signs show a time limit applies.
Is parking here allowed?
The blue badge allows parking on yellow lines but there are other things which may ban parking; it doesn't turn a yellow line into a parking bay. A blue badge doesn't allow parking over a dropped kerb, on a junction, where there is a solid white line in the centre of the road, or where there is a loading ban (usually marked by yellow lines off the edge of the kerb).
Pedestrianised areas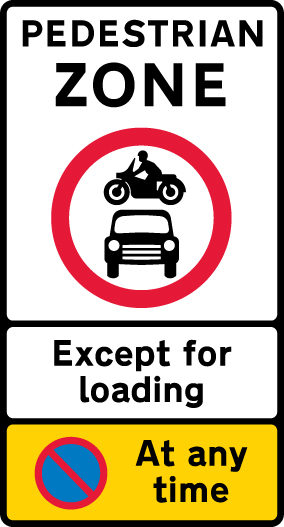 Restrictions in pedestrianised areas can vary hugely from city to city and town to town. They often have parking restrictions included on the entrance signs. Times when loading is not allowed, parking for blue badge holders is also not allowed. The image on the left shows an entrance to a pedestrian zone where loading is allowed at any time. The yellow section at the bottom indicates that there is a restriction equivalent to double yellow lines through the pedestrian zone.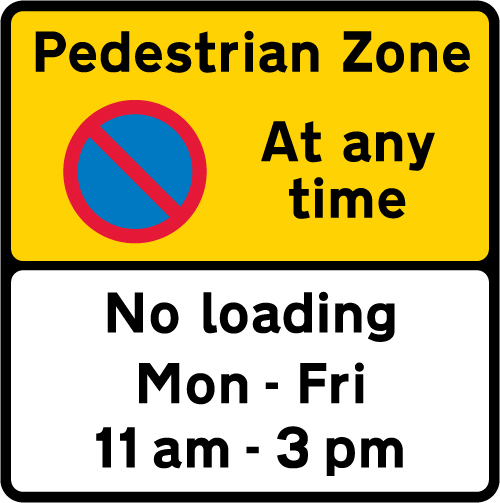 Pedestrian zones, and other areas with zone entry signs instead of lines, will usually also have reminder plates at regular intervals making the restriction clearer. Bays within the zone may have different restrictions.
On a car park
Car park operators set their own rules, so check the signs each time. Blue badge holders are not usually allowed to park on yellow lines in car parks. Private paid for car parks are less likely to provide free parking than councils – but some council car parks charge blue badge holders too.
Is it the right type of bay?
Blue badges allow parking in spaces reserved for blue badge holders, pay and display bays (free of charge, for as long as needed), and limited waiting bays (for as long as needed, unless signs specify a time limit for blue badge holders). They do not allow parking in loading bays, permit holders bays (normally – some councils allow it), bus stops, or taxi ranks.
Is it the right way up clearly displayed?
The hologram, and not the photograph, should be visible, and the expiry date and serial number should be clearly visible.